Unblocked Games 911: Play Free Browser-Based Games
Gaming has become a global phenomenon thanks to the internet. There are now online versions of all kinds of games, including physical ones. One popular gaming platform is Unblocked Games 911.
Unblocked Games 911 is an online gaming hub that offers a ton of browser-based, free-to-play .io and web games. There are hundreds of games to choose from, so you're sure to find something you like.
See other game review here
You can play Unblocked Games 911 on your computer or your phone. It's suitable for players of all ages, and the gameplay is fun and addictive.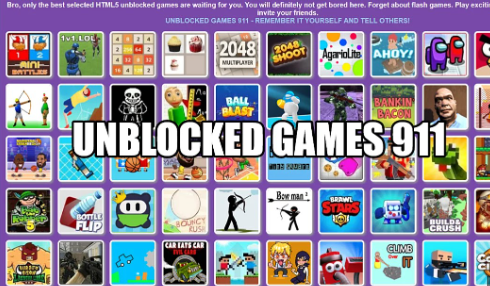 Unblocked Games 911 was created by Kirill Eremenko in 2009. He wanted to make it possible for people with dyslexia or other impairments to play games without having any trouble following the action. The games on Unblocked Games 911 all work in your browser, so you don't need to install anything to play them.

Here are the top 10 unblocked 911 games and how to play them:
Leader Striker Unblocked: In this 3D game, you choose a politician and try to win a World War III.
The Black Knight Unblocked: Play as the Black Knight and collect taxes from your subjects.
Railway Runner 3D Unblocked: Help the kid race through the railroad tracks and collect diamonds.
Stick Duel Unblocked: Battle other stickmen in a tournament using swords, axes, and other weapons.
Typing Fighter Unblocked: Test your typing skills by shooting enemies by typing words.
Time Shooter 3: SWAT Unblocked: Save captives and defeat terrorists in this first-person shooter game.
Horde Killer: You Vs 100 Unblocked: Survive waves of zombies using a variety of weapons.
Backflip Adventure Unblocked: Perform parkour tricks and score points by landing on your feet.
Cube Flip: A relaxing puzzle game where you have to flip cubes to reach the exit.
CleanUp IO: Use a vacuum cleaner to collect as many items as possible before the time runs out.
These are just a few of the many great games available on Unblocked Games 911. So what are you waiting for? Start playing today!