Rachel stone car accident: Condolence to Lee's Summit educator
Many continue to pay tribute to Rachel Stones after she died from a car accident. According to many, she was an icon and a role model. Regardless of how we feel, in this article we will be discussing the events, life, works and tributes to Rachel stone.
Rachel Stone, who was she?
Rachel Stone began her career as a teacher in 1997. She was a mother of two children and a teacher at Lee's Summit High School for 25 years.
Kari Harrison, the principal of Lee's Summit High School, sent an email to employees and students' parents in which she announced her death. According to the statement:
"Mrs. Stone was a dedicated educator who will be missed throughout the LSR7 community."
It went on to say that she was an assistant volleyball coach for the girls and that her husband, Scott Stone, is a teacher at Bernard Campbell Middle School. According to the statement, their school community is built on connections and such situations can be difficult to handle.
According to the email, school officials have brought in counselors and district leaders to help everyone, and the counseling team will provide emotional support to kids and employees.
Rachel's husband, Scott, and their two children survive her.
Rachel stone car accident Event
Rachel Stone, an educator at Lee's Summit High School who taught the subjects of physical education and health, passed away on Thursday, February 16, on the U.S. 50 Highway after a tractor-trailer collided with the car she was traveling in. The event is now being looked into by the Missouri State Highway Patrol, who are attempting to determine what caused the collision that occurred earlier.
The highway patrol called the Jackson County Sheriff's Office early on Thursday morning to request assistance in response to an accident that had occurred at the intersection of the 7 Highway and the United States Highway 50.
The tractor-trailer apparently lost control on the icy roadways and collided into oncoming traffic, which included Rachel Stone's vehicle, based on an investigation of the accident that was filed by the Missouri State Highway Patrol.
Stone is said to have passed away at the scene of the accident, despite the fact that the motorist of the tractor-trailer managed to survive.
A user on the social media platform facebook, Cassowary13 posted regarding the incidence. In his post, he said;
@LSR7 Rachel Stone's blood is on your hands. Day off for a parade but school day when students @LeesSummitHigh can't walk to classes safely due to ice & it's not safe to drive due to weather???? Mixed up priorities. RIP Ms.Stone
Rachel Stone, a high school teacher who was 47 years old at the time of her death, is honored by internet users.
On the bowling alley's official Facebook page, Summit Lanes Lees Summit voiced their sorrow by claiming that Rachel Stone was the person responsible for the posts that had been shared on their page over the course of all these years.
They disclosed that she worked in the Lee's Summit School District for around 20 years, both as a schoolteacher and a coach. They stated,
"Please join us in sharing condolences for the Stone and Keltner families, many of whom have also worked at Summit Lanes, including our dear friend Judy. Rachel, you will be missed."
Rachel and her teaching abilities were admired by everyone who knew her over the years. When word of her death spread, social media platforms were inundated with tributes.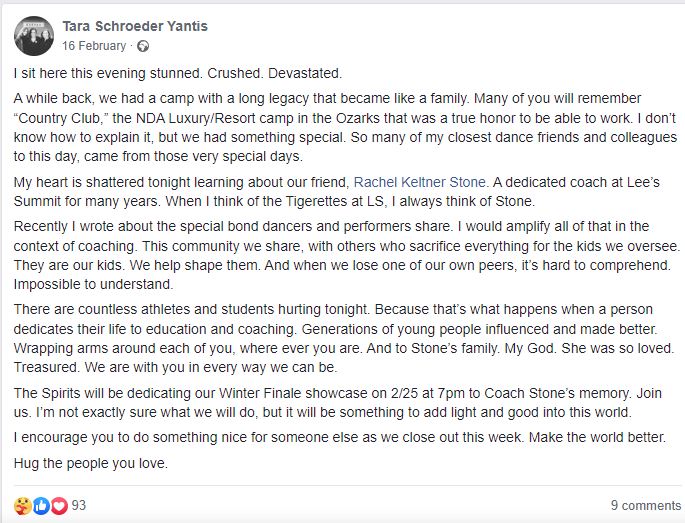 The Statement from Summit Lanes Lees reads;
Like so many others, we are heartbroken to share we've lost a longtime, beloved member of our Summit Lanes family this morning in a car accident. Rachel was the brains behind nearly all of the posts you saw from our page over the last several years. Beyond the walls of our social media, she was also an admired educator and coach in the Lee's Summit School District for over 20 years. Please join us in sharing condolences for the Stone and Keltner families, many of whom have also worked at Summit Lanes, including our dear friend Judy. Rachel, you will be missed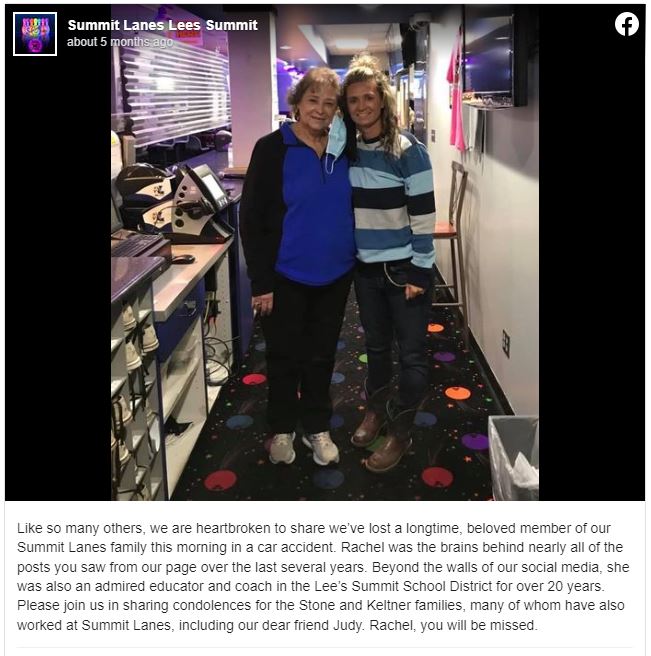 Many more have come out to state how impactful and good Rachel was. a statement reads;
Am saddened by the news of your sudden demise! Our last conversation was on the night of Lee's Summit High School homecoming dance 2022. You asked about our daughter Eghosa whom you spoke very highly of and how you know she is going to do great things in life and that you can't wait to see her in high places in the society. I never knew you will not be here to watch her future accomplishments. You always have smiles on your face and have a way of making your students & athletes feel confidence. Your big personality will be missed surely. God has definitely gained a beautiful soul. Unfortunately, your loved ones will miss you greatly especially your husband and kids. Rest in peace Coach Stone as you are fondly called.